Pulse laser cleaner-Rust, Oil, Debris & Paint Removal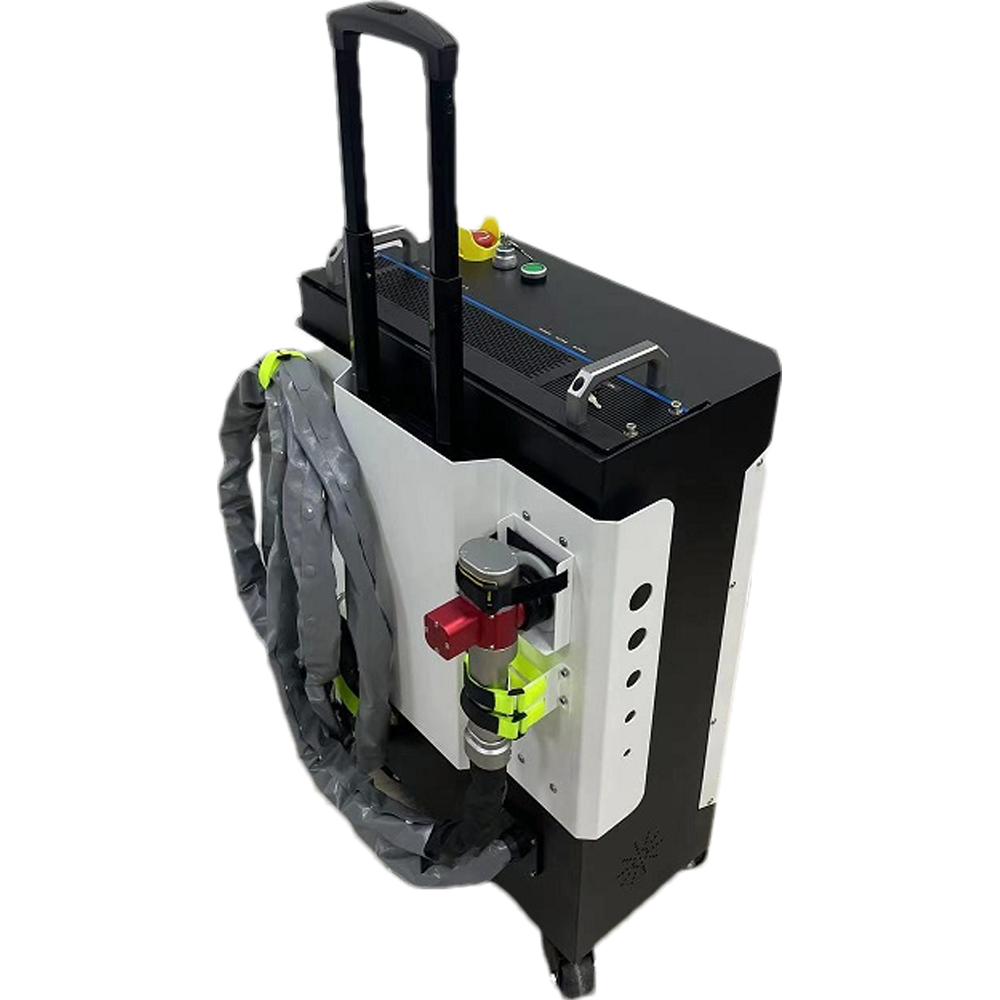 A pulse laser cleaner, also known as a laser cleaning system, is a device that uses high-energy laser pulses to remove contaminants, coatings, or unwanted materials from surfaces. It is a non-contact and environmentally friendly method of cleaning that can be used in various industries such as manufacturing, automotive, aerospace, electronics, conservation, and restoration.
The pulse laser cleaner works by delivering short-duration, high-intensity laser pulses to the surface of the material to be cleaned. The laser energy rapidly heats and vaporizes the contaminants or coatings, causing them to break down and be expelled from the surface. The process is highly controlled and precise, allowing for selective removal of unwanted substances without damaging the underlying material.
Application of pulse laser cleaner
Tire mold cleaning
Rust removal on metal surfaces
Weld Cleaning
Metal oxide film cleaning
Steel pipe paint removal
Key features and advantages of pulse laser cleaning:
Non-abrasive: Laser cleaning does not require the use of chemicals, solvents, or abrasive materials, minimizing the risk of surface damage or material loss.
Versatility: Pulse laser cleaners can be used on a wide range of materials, including metals, plastics, ceramics, composites, and more.
Precision and control: The laser parameters can be adjusted to control the energy and spot size, enabling precise cleaning and selective removal of contaminants.
Environmentally friendly: Laser cleaning is a non-contact and non-destructive process that generates minimal waste and does not release harmful chemicals or by-products into the environment.
Efficiency: The cleaning process is relatively fast, and it can remove multiple layers of coatings or contaminants in a single pass, reducing the cleaning time and improving productivity.
Automation compatibility: Pulse laser cleaning systems can be integrated into automated production lines, making it suitable for industrial applications.
It's important to note that pulse laser cleaning systems can vary in terms of power, wavelength, and other specifications depending on the specific cleaning requirements. Different laser types such as fiber lasers, pulsed Nd:YAG lasers, or pulsed CO2 lasers may be used, depending on the nature of the surface and contaminants to be cleaned.
Overall, pulse laser cleaners offer an efficient, precise, and environmentally friendly method of cleaning surfaces, making them a valuable tool in various industries where surface cleanliness is crucial.
Technical Parameter:
A 100-watt fiber pulse laser cleaner refers to a pulse laser cleaning system that utilizes a fiber laser as its laser source and has a power output of 100 watts. Here are some key characteristics of a 100-watt fiber pulse laser cleaner:
Fiber Laser Technology: Fiber lasers are commonly used in pulse laser cleaning systems due to their high efficiency, compact size, and excellent beam quality. They use fiber optics to deliver the laser beam to the cleaning head, allowing for flexibility and ease of integration.
Power Output: A 100-watt fiber pulse laser cleaner provides a relatively high power output, which enables effective cleaning of various materials and surfaces. The higher power allows for faster cleaning speeds and the removal of thicker or stubborn contaminants.
Wavelength: The specific wavelength of the fiber laser used in a 100-watt pulse laser cleaner can vary depending on the manufacturer and application requirements. Common wavelengths for fiber lasers used in cleaning applications include infrared (e.g., 1064 nm), green (e.g., 532 nm), or ultraviolet (e.g., 355 nm).
Pulse Duration and Energy: The pulse duration and energy of a 100-watt fiber pulse laser cleaner will depend on the specific system and can vary. Pulse durations in the nanosecond or picosecond range are typically used, allowing for precise and controlled material removal. The pulse energy will also vary based on the specific requirements and can range from a few millijoules to higher values.
Control System and Automation: A 100-watt fiber pulse laser cleaner may be equipped with a control system that allows for parameter adjustment, such as power, pulse duration, spot size, and scanning speed. Advanced control systems may also offer programmable cleaning patterns and automation capabilities for integration into production lines.
| Model | WH-100QX |
| --- | --- |
| Laser power | 100w/200w/300w |
| Laser source | Fiber laser |
| Laser source brand | Raycus, Max |
| Laser wavelength | 1064nm |
| Laser frequencey (Khz) | 20-500 |
| Cooling type | Air cooling |
| Cleaning area | 160 field mirros: scan line diameter:100mm |
| Cleaning head | Customized |
| Fiber cable length | 5 meter( Outside 4 m) |
|  Fiber cable length | Default 5 meters, the longest 10 meters (can be customized with extra cost)  |
| Machine power | 1200W |
| Electricity | Single phase, AC220v 220V±10%,50/60Hz |
| Working envirenment | 0°C~40°C |
| Working envirenment humidity | ≤70% |
| Cleaning width | 1-150mm |
| Machine dimension | 660*370*580mm |
| Machine weight | 70kg |
Machine Photos: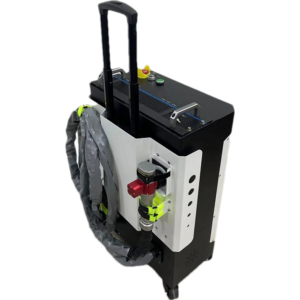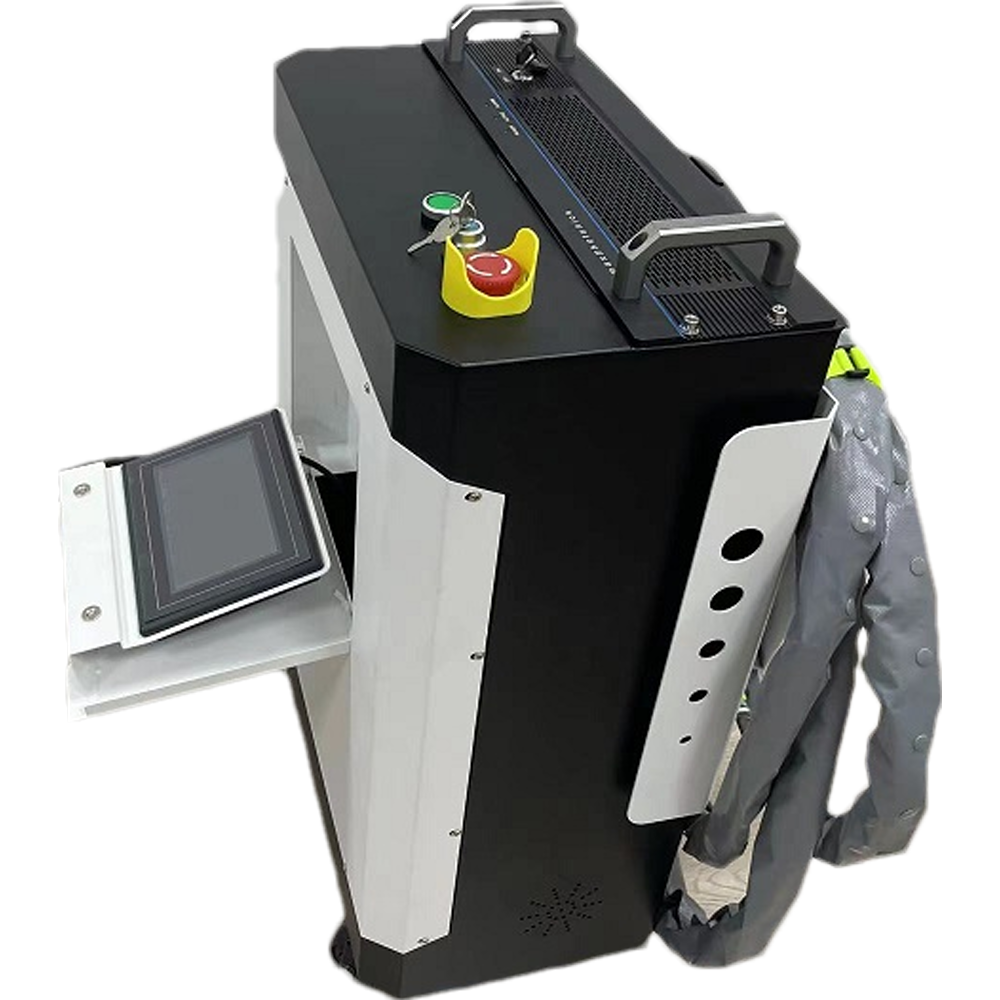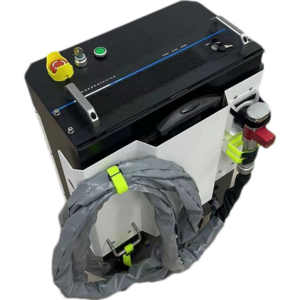 Sample Display:
Laser cleaning has the characteristics of non-abrasive and non-contact.Not only can be used to clean organic pollutants,
It can also be used to clean inorganic substances, including metal rust, metal particles, dust, etc. The application functions include: rust removal, paint removal, oil removal, cultural relic restoration, glue removal, coating removal, and plating removal.

Work video: