Fiber laser welding machine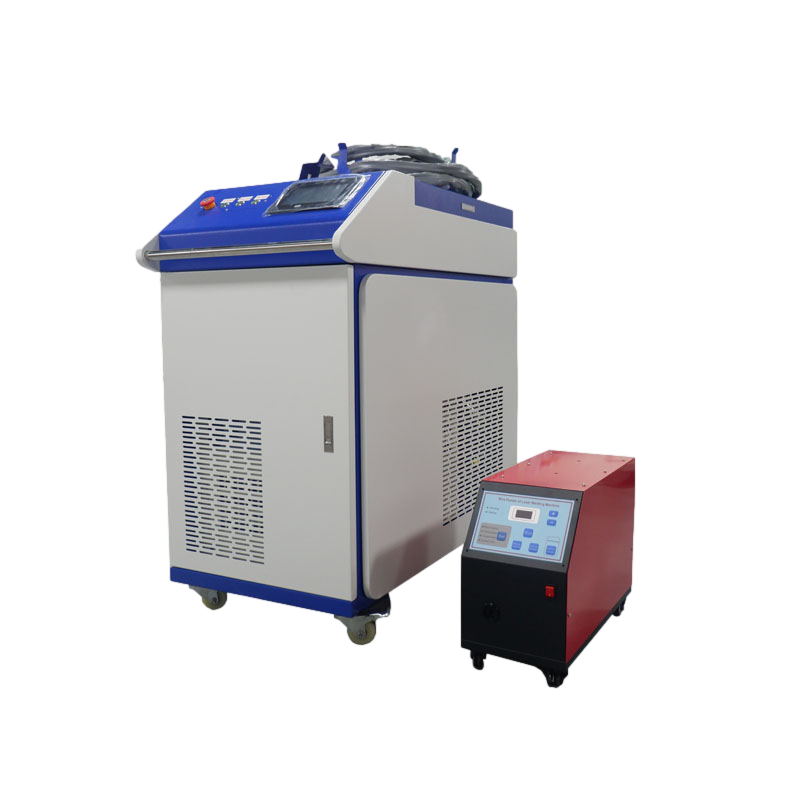 Technical Parameter 
| Product Name | Handheld Fiber Laser Welding Machine |
| --- | --- |
| Laser power | 2000w (1000w/1500w/3000w is available) |
| Laser wavelength | 1064-1090nm |
| Fiber cable length | 10m |
| Work mode | Continous |
| Welding speed | 400-500mm/s |
| Cooling method | Water cooling chiller |
| Welding thickness | 0.3-5mm |
| Welding beam | ≤1.5mm |
| Laser source service time | 100,000 hours |
| Work voltage | 380v |
| Rated power | 10kw (chiller included) |
| Laser spot size | 0.2-5mm |
| Laser head | Double wobble |
| Auto feeder | Yes |
| Position | Red light position |
Machine Introduction
Handheld fiber laser welding machine adopts latest generation fiber laser source, equipped with double wobble handheld laser head, It has advantage of simple operation, beautiful welding beam, fast welding  speed and free consumables. Fiber laser welding machine can perfectly replace of tradetional argon welding and electic welding in welding thin stainless steel plate, iron plates, aluminum plates and other metals materials.
Hand working model, flexible and convenient;
Small heat-affected area during welding, which will avoide the  deformation, blackening, and traces on the back of the workpiece.
Use a hand-held welding gun to replace the previously fixed optical path, long welding distance;
Handheld fiber laser welding machine is mainly used for laser welding of long-distance and large workpieces.
Large welding depth, firm welding and sufficient melting;
Structure of Welding Gun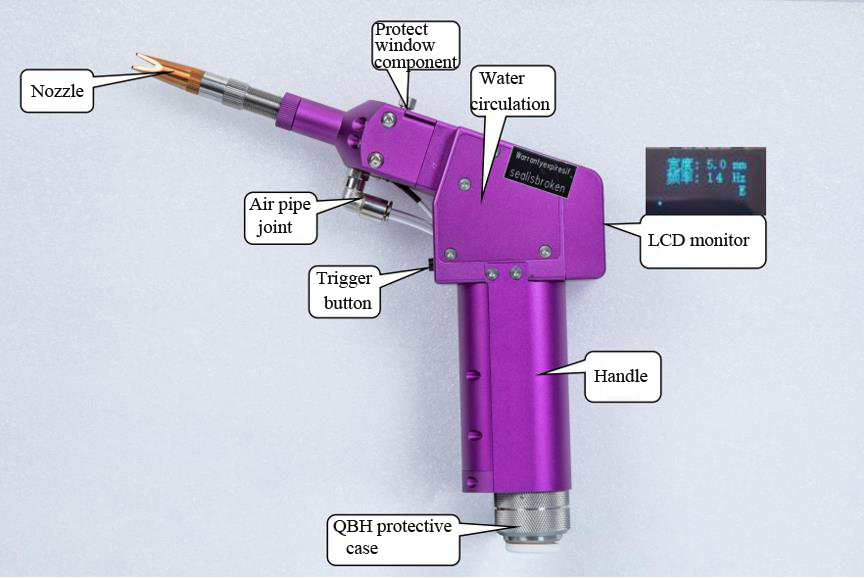 Application
Widely used in lighting and molding industries, Optoelectronic Communication Devices, Medical, Electronic, Copper parts, aluminum and small welding processing industries.
and complex irregular welding process in cabinet kitchen and bathroom, stairs, elevators, shelves, ovens, stainless steel door, window guardrails, and other stainless steel industries.
Feature & Advantage
►The welding speed is fast, 2-10 times faster than traditional welding, and one machine can save at least 2 welders a year.
►The operation is simple, you can work without a work certificate, and you can weld beautiful products without a master.
►The welding seam is smooth and beautiful, reducing the subsequent grinding process, saving time and cost.
►The self-developed hand-held welding head makes up for the disadvantage of small laser welding spot, expands the tolerance range of processed parts and weld width, and obtains better weld shape.
►The welding workpiece has no deformation, no welding scars, and the welding is firm.
►Fiber laser welding has less consumables and long life.
► Hand-held welding heads are used for welding large metal advertising characters to overcome the limitation of workbench space
►The hand-held welding head is equipped with 10 meters of optical fiber, which is flexible and convenient, and can realize outdoor welding
►The operation mode of the hand-held welding torch can realize welding at any angle on any part of the workpiece
Machine Details 

Wire feeding fixture, wire feeding nozzle and welding nozzle
·High-precision fully enclosed low-speed motor is adopted, and the dual-drive wire feeding structure makes the wire feeding more smooth and powerful without wire jamming wire feeding nozzleand welding nozzle;
Closed body design, with portable handle and universal wheels,Chinese red spray appearance.
Wire feed regulator,LED screen displays real-time wire feeding speed,high precision speed khob, can control the wire feeding speed at will.