Application of Co2 laser cutting machine in leather industry. Leather is the material that everyone are familiar,. From big side, the leather seat on the plane we take, to the foot pad on our own car, our shoes, our leather clothes. How are the leather be cut ? It may be cut by scissors, but the efficiency is too low. The high efficient cutting is definitely done by machine. Next, Jinan Weihua Machinery Equipment Co., Ltd. introduces you to the automatic feeding laser engraving machine.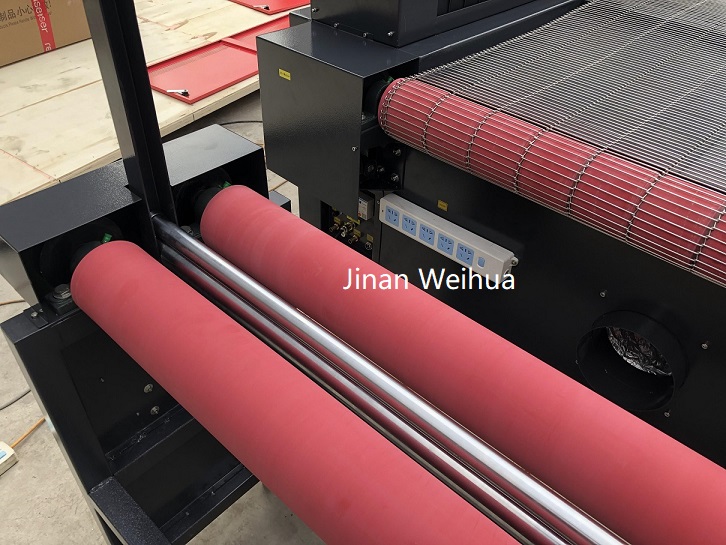 This CO2 laser cutting machine is is mainly applied to leather, fabric, denim velvet, cotton silk and other materials. Can be fed automatically. Greatly improve production efficiency, use orders that are diversified in small quantities. Such requirements require manufacturers to respond to the demand market and deliver delivery in a timely manner.
Large format cutting area, 1300*2500mm work size, the width is 1300mm. Unlimited length. Can cut fabric and leather in roller shape.
Full-automatically leather (and other materials) feeding and collecting, save cost, shorten time, to improve the leather cutting efficiency.
Auto-feeding system adopts the special work table, feeding the materials, it is easy to pass the materials (leather, fabric).
Jinan Weihua machinery is a professional manufacturer of CO2 laser engraving cutting machine, fiber laser marking machine with CE FDA certificate. It is our pleasure to provide the laser solution for you. Any problem, please contact us at wendy@jnweihua.com